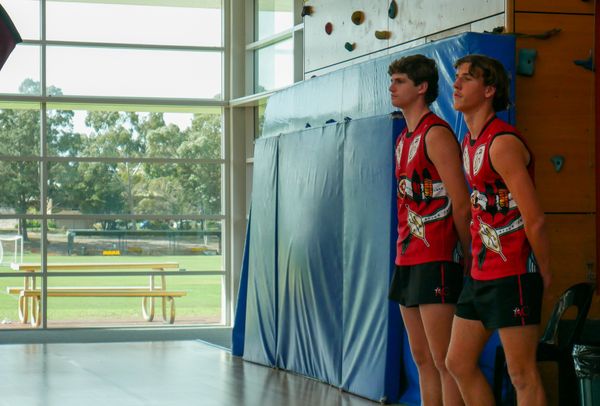 My name is Jesse Motlop, and I'm a proud Larrakia man from the Darwin region in the Northern Territory.
Joining me is fellow Year 12 Student and 1st XVIII Footballer, Xavier Bradshaw-Pini.
Over the past 18 months, we have been sketching out a number of ideas. We have drafted many different jumper designs, using different colours, symbols, and styles. It wasn't until late last term that we settled on a design that we were happy with, and we're excited to present it.
On the front of the jumper, we see four white shields, these same shields can be seen as you enter the college at the roundabout. They each have a touchstone to represent the Edmund Rice Education Australia symbols but have been converted into Indigenous designs. The touchstones stand for:
Liberating Education
Gospel Spirituality
Inclusive Community
Justice and Solidarity
Across the front of the jumper and wrapped around the sides we see the Waugal, otherwise known as the snake. It was the Waugal that made the Noongar people custodians of the land so as a way to pay respect to the Wadjuk Noongar tribe, we have used the Waugal as a way to represent the group on this jumper, as this is their country that we play our sport on.
Some of you may have heard of a man by the name of Yagan, he was a Noongar leader and resistance fighter in the early 1800s and was feared by Europeans as a patriot fighting for his land. It is said that Yagan used to protect the point of Aquinas way before the College's time, so to represent him we have included the four Red-Tailed Black-Cockatoo feathers on the jumper, the feathers of which Yagan use to wear on the top of his bandanna.
On the back of the jumper, you will see a river, this represents the Djarlgarra, also known as the Canning River. In the middle you will see a symbol to represent a meeting place, that is Aquinas College.
Designing the jumper has been an exciting project. Xav and I have put a lot of effort and time into this, and to be able to see the end product turn out this good is very rewarding.
Lastly, thank you to Aquinas for allowing Xav and I to embrace Aboriginal culture and history into the College's 1st XVIII Footy jumpers. It's an awesome idea and a great way to celebrate NAICOC week.
The jumpers will be made available to purchase in the uniform shop in the upcoming weeks.

Jesse Motlop and Xavier Bradshaw-Pini, Year 12